---

ESOL Courses
---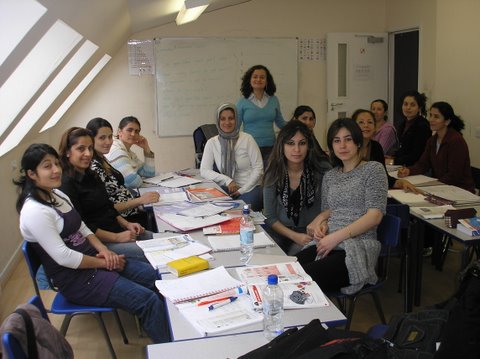 Education is not limited to children at the KCC. Adults of all age groups are also given the opportunity to learn and use the most vital tool for encouraging integration, self-confidence and self-esteem; namely the English language.
Lack of language skills is a common theme that has woven through our community for years, now. It has led to members of the community being continually dependent on others which, in turn, has almost brought their social integration to a halt.
The KCC offers free English for Speakers of Other Languages (ESOL) classes in conjunction with Haringey Council who provide a free crèche for use by those attending the class.
The ESOL courses are for people who do not speak English as their first language. Our ESOL courses help members of the community to improve their English so that they can communicate in everyday situations such as giving directions, filling in forms, going to the doctor, writing letters and so on. In addition, the courses also aim to prepare students for higher levels of ESOL learning, as well as helping them to get access to other college courses which improves employment prospects.
The KCC provides ESOL classes for Entry Levels One, Two and Three. Classes are limited to 15 students to ensure that full attention can be given to each student's particular needs. All classes run Monday, Tuesday, Wednesday and Thursday from 11.30am – 1.30pm.
The KCC's ESOL classes are very flexible, which means that everyone can study at the level that is right for them. The courses cover the four skills areas of Speaking, Listening, Reading and Writing. Courses are taught through class-based learning in integrated activities and in specific skills-focus lessons.
Moreover, ESOL learners, at the KCC, may be able to obtain nationally recognised qualifications that record their achievement in the four core skills.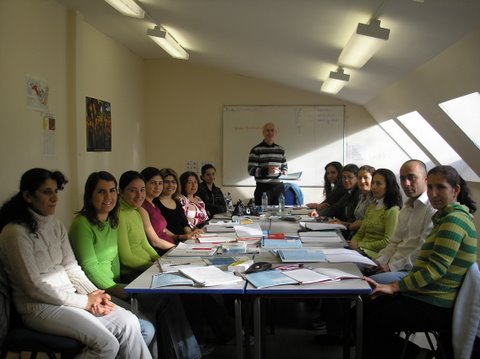 The following are some of the comments made by the students on this years' ESOL course:
"I like the lessons and my teacher is good. Since coming to class my speaking has improved and I understand a lot more."
Bessey Sahin
"I enjoy going to school because our teacher teaches very well. Since coming to this school I have learned very useful English words and my English has improved."
Ayfer Dabar
"I like my school because the teacher is good. My teacher speaks English to us which helps us to learn more. Also, I have made new friends. Thank you very much Kurdish Community Centre."
Sevim Alagoz
"I'm very happy because I have learned many words. I like my teacher as he is very helpful. I'm very happy with my class as everyone is very friendly. Don't close the school!"
Fatos Gunel
"I like the school because the teacher teaches very well. I want to come every day until I can speak good English. I like going to school in the Kurdish Community Centre."
Meral Nihal
"We have a good and helpful teacher and the people in my class are lovely. Every day we learn new vocabulary. I'm very happy and hope to finish this course and improve my English skills."
Karima
Please note, unfortunately all classes are currently full.
---
The KCC is deeply grateful to Verdon and Regina Edgar, who have been volunteering their services to us since 2006.
We are looking for volunteers who would be prepared to come in and teach so that we can expand the school and more people can benefit from this service. If you are interested in this opportunity please contact us for more information.
---